Move over, Miami Hurricanes. Auburn University is the new "Thug U."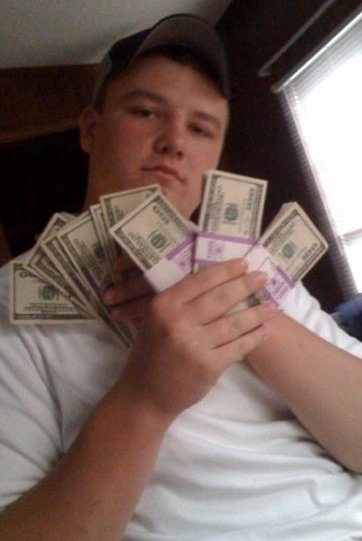 Cam Newton, his team, his coach, and his university can expect to be put under the microscope for the immediate future. Every single move, comment, and reaction will be scrutinized and discussed. Auburn knows this, yet we continue to get more and more evidence about the state of Auburn University athletics.
And the evidence just isn't pretty.
This is not just a perception problem. While the SEC and their mob boss, Don Michael Slive, will not investigate the matter of Cam Newton's recruitment, the FBI and the NCAA already have started their own investigations.
It would be very easy to dismiss Cam Newton and his father allegedly selling the Heisman Trophy frontrunner's services as an isolated case. Even the actions of one extremely moronic donor could be excused as the proverbial bad apple upsetting the whole cart. I'm a forgiving individual and was willing to do so. I was willing to dismiss photos like the one above of freshman tight end Dakota Mosley with wads of cash. I was willing to forget the youtube exploits of freshman running back Michael Dyer.
Then I watched Auburn play Georgia on Saturday.
Gene Chizik's Auburn team is compiled of dirty players with bad attitudes. Sportsmanship? Forget about it. Restraint? No sir. In fact, when you discuss the entirety that is the Auburn football program, compiling a list of grievances and offenders quickly becomes a tedious task.
Against Georgia, the Auburn Tigers had dirty hits against Georgia quarterback, Aaron Murray. They were flagged for multiple personal foul penalties. They threw punches. They had ejections. Amazingly, they were all different offenders. It wasn't a single rogue player that failed to take his bipolar medicine before kickoff. This was a team-wide epidemic.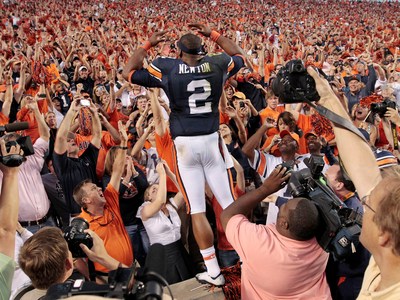 Even when Cecil Newton isn't pimping his son's services on craiglists, the Heisman hopeful oozes a mentality that simply isn't championship material. After being caught trying to purchase a laptop one presumes he knew to be stolen, after tossing the laptop out of a window in an effort to evade being arrested, after allegations of academic fraud, and now after allegations that could render him ineligible and the season a bust for the Auburn Tigers, one might think that Cam Newton would be humble, gracious, and focused on the team and their goals of winning a national championship.
That isn't exactly what we saw.
What we witnessed was Cam Newton on at least three different occasions become a one-man parade as he trounced and bounced all by his lonesome in front of the Auburn faithful. The message was clear: Have no fear, War Eagle, Cam Newton is here.
It has been reported that the NCAA informed Auburn University of possible eligibility issues surrounding Cam Newton, and to play him certainly brought with it some risk. If playing Cam Newton alone was not a slap in the face of the NCAA, then the pomp and circumstance show that Cam Newton displayed for the cameras and the fans in response to him starting was a haymaker to the jaw of college football's governing body.
As bad as the Cam Newton for 2012 campaign proved to be- complete with "Yes We Cam" signs- Nick Fairley trumped it by becoming the dirtiest player in the SEC. Time and time again his hits against Murray were late and needlessly violent. The play that finally took Murray out of the game was a cheap dive into the back of Murray's knee. Instead of showing respect and class, Fairley ran some 20 yards down field and did a dance that half resembled the dirty chicken and half that of a pro wrestler proclaiming he is the next world champion with an imaginary belt swipe.
Georgia had every right to be upset, and they should have stood up for their quarterback. The team without a gripe, the Auburn Tigers, ended up being the team that threw punches. First, it was Michael Goggans that threw a right hand in the original scuffle that resulted in an ejection. Shortly after, Mike Blanc got tossed as well. As benches cleared, Mark Richt and the Georgia coaching staff worked responsibly to defuse the escalating tempers. It's a good thing because they were getting little to no help from the Auburn coaching staff. Gene Chizik was too busy jumping and pumping his arms in an effort to keep the Tigers on their emotional and temperamental high.
In short, Gene Chizik i
s the biggest thug of all. In the end, teams take on the persona of their head coach. It is no coincidence then, that Auburn plays dirty and without sportsmanship. After all, with the game well in hand late in the fourth quarter, Chizik decided that piling up the points was worth risking his prize thoroughbred to injury by continuing to run Cam Newton again and again.
With Chizik egging the Tigers into their personal foul frenzy, it was Richt that had the common sense to help Auburn stop embarrassing themselves. It's rare to see a coach who is behind on the scoreboard take a knee to end the game, but Richt knew that if Chizik wasn't going to control the Tigers, he would have to do it for him.
For now, Auburn is riding high. They are undefeated and will play for the SEC championship in Atlanta. If the Tigers escape one more conference game at Alabama and the SEC Championship game afterward, they will play for the BCS National Championship. Of course, there will be speculation about their wins and if they will stand due to Newton's eligibility issues. But until the day of reckoning, the War Eagles are flying high.

So was Miami.